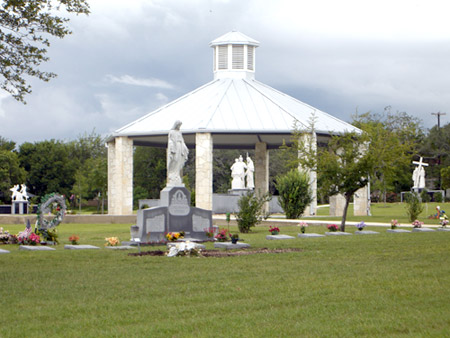 History
Beginning as a private cemetery for the Cordi-Marian Sisters, Resurrection Cemetery has been extended 20 more acres. Nestled in the 85 gorgeous acres of the Cordi-Marian Catholic Community, Resurrection Cemetery offers a tranquil site with plots, niches and crypts that are now available to the public for reservation. Future plans are to build a mausoleum to compliment our new chapel.
About Resurrection Cemetery
Surrounded by nature, the trees and gorgeous landscaping at Resurrection Cemetery create a secluded, protected and peaceful atmosphere. A friendly staff is dedicated to keeping the grounds in pristine condition.
In addition to the natural beauty of the site, Resurrection Cemetery is also home to gorgeous life-size marble sculptures representing the Stations of the Cross, which double as icons of faith as well as a columbarium for cremations. When you step onto the grounds you will be filled with a sense of peace and spirituality. The beautiful grunds allow us to experience and hear an atmosphere of God's nature.
Amenities
In addition to the tranquil atmosphere Resurrection Cemetery offers, there are a number of other amenities that make it the ideal cemetery:
Family Gardens with adjacent plots
Specialized Infant Gardens including a memorial for the unborn child
A secluded Grotto for prayer, funeral services, and liturgies
Las Fuentes Banquet Hall - Perfect for post-funeral receptions
Pavilion for gatherings and funeral services
A beautiful waterfall
Soft music pumped throughout the grounds
Planning for the Future
It's difficult to think about the future, but it's also very important. Preparation can make difficult times a little easier on those who are left to make arrangements. By reserving your plots at Resurrection Cemetery now, your can ensure that everything will be taken care of, and nobody will be left making decisions during a difficult time.